Shreveport Lawn Fertilization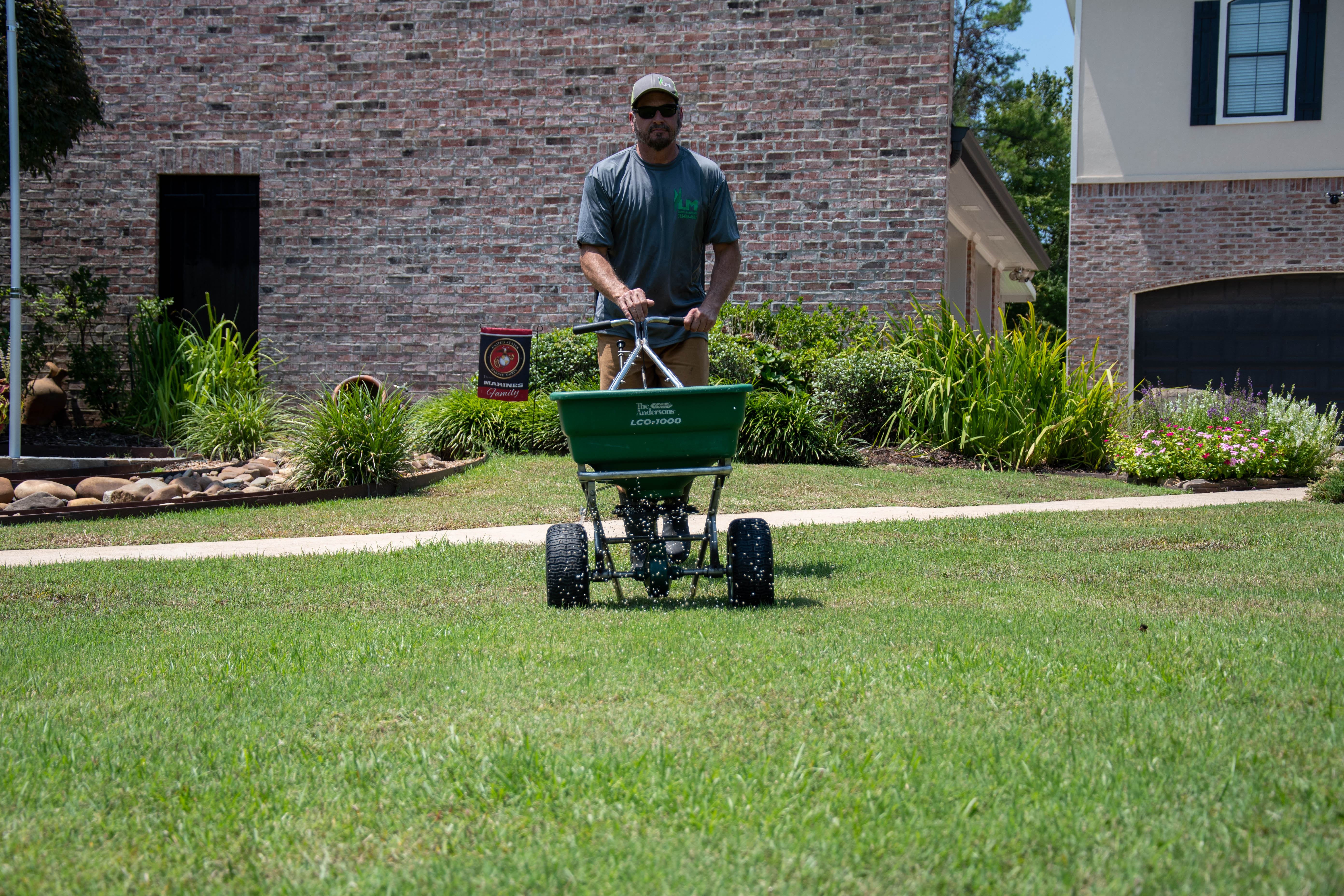 Comprehensive Lawn Fertilizer Services in Bossier & Beyond
A healthy and lush lawn can be the perfect centerpiece for a beautiful landscape. To achieve that glowing, fresh scenery, it is necessary to practice good lawn maintenance habits, like hiring a lawn fertilizer service. Regular upkeep encourages new growth and hardiness. It can also dramatically reduce the stress the plants experience and guard against the wear and tear of the seasons. Having the proper balance of nutrients in the soil also removes the need for competition between grass and weeds. Once you have accomplished this, the grass is well-primed to grow into its full beauty and health.
At Lawnmasters, our skilled professionals in Shreveport lawn fertilization can provide the quality services you need to ensure your lawn is looking its best all year round. With more than 30 years of industry experience, our fully licensed and insured landscaping company can handle all of your lawn fertilization needs.
Other reasons to choose Lawnmasters include:
Provide top-quality property maintenance packages
Available 24/7 to answer your questions
Honest and upfront pricing
Uniformed and clean professionals
---
Call (318) 686-4103 or contact us online to speak with a member of our team about lawn fertilization services in Shreveport.
---
When It Comes to Lawn Fertilizer, Timing Is Everything
It is always a good idea to take care and consider the time of year in order to implement the most effective fertilization techniques.
Be aware of what your lawn needs most year-round:
Late Winter – this is the perfect time to place pre-emergent herbicide to combat the summer weeds, stopping them before they can germinate.
Early Spring – using a post-emergent herbicide can take care of the rest of the stubborn summer weeds. You may want to request aeration for the soil.
Spring– in this season, grass is transitioning from dormancy to its main growth cycle. To make the most out of this, balancing the amount of iron and nitrogen with fertilizer in the soil is key. This treatment also comes with the added bonus of an insecticide to safeguard against harmful critters.
Late Spring – laying down a treatment of heavy fertilizer will boost the abundant growth of grass.
Early Summer – slow release fertilizer will keep the lawn healthy and strong during the hot months.
Summer – a balanced fertilizer blend and an insecticide work to keep your lawn strong and well-fed.
Late Summer – a second treatment of pre-emergent herbicide stops winter weeds in their tracks.
Fall – use a special fertilizer that strengthens root systems and keeps plants tough through the coming winter.
Winter – a final post-emergent weed treatment can eliminate tough-to-beat weeds such as clover and henbit, paving the way for another successful growth cycle.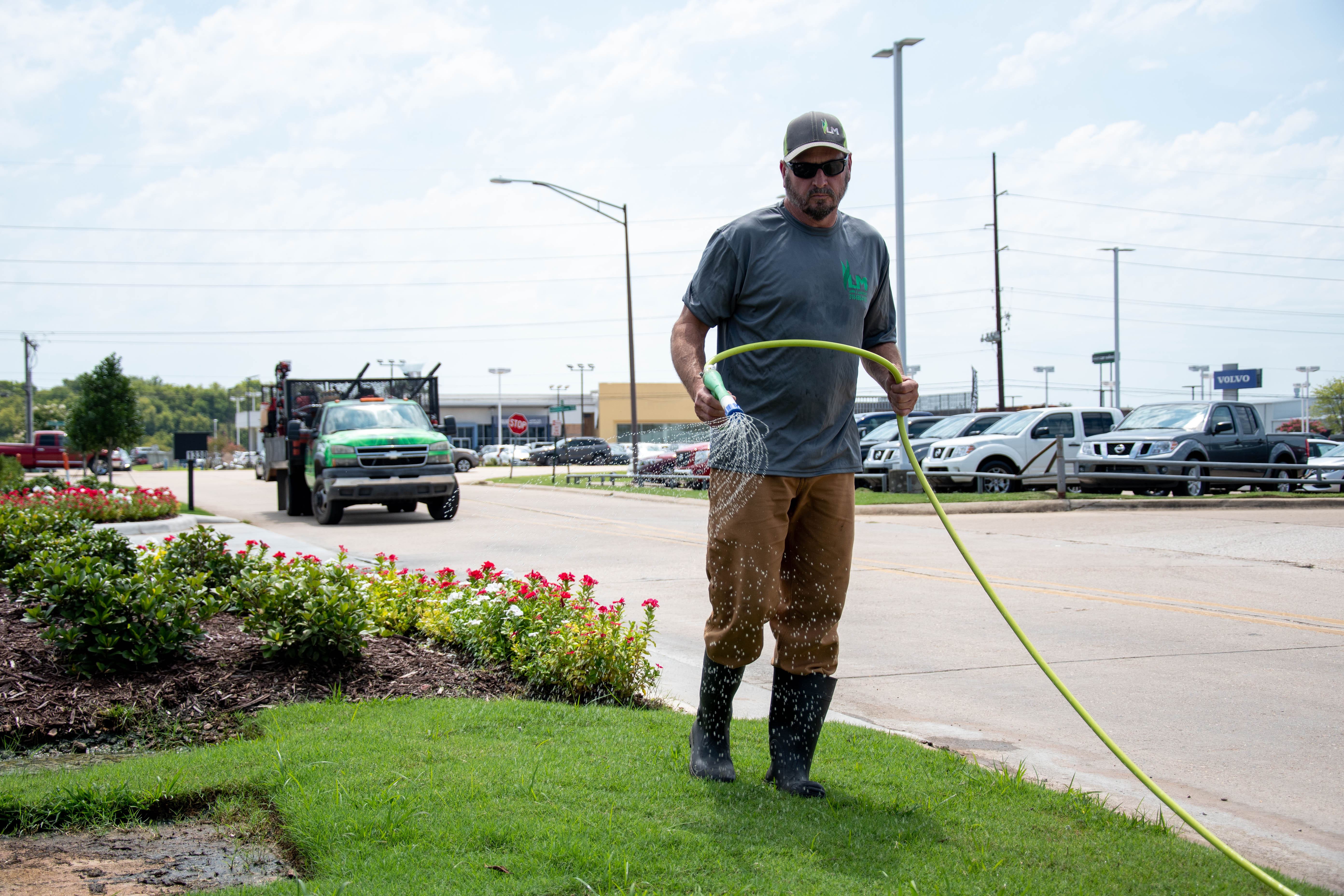 Enjoy Life with Greener Grass
We encourage you to call our lawn care team at Lawnmasters and ask about the most effective way of bringing out the best in your lawns. We can work with you to create the perfect plan to get your turf looking lush, healthy, and green in no time at all. Our Shreveport landscaping team is excited to hear from you.
---
Contact us today to take advantage of our decades of experience as a lawn fertilizing service in Shreveport.
---