Shreveport Irrigation & Water Management Services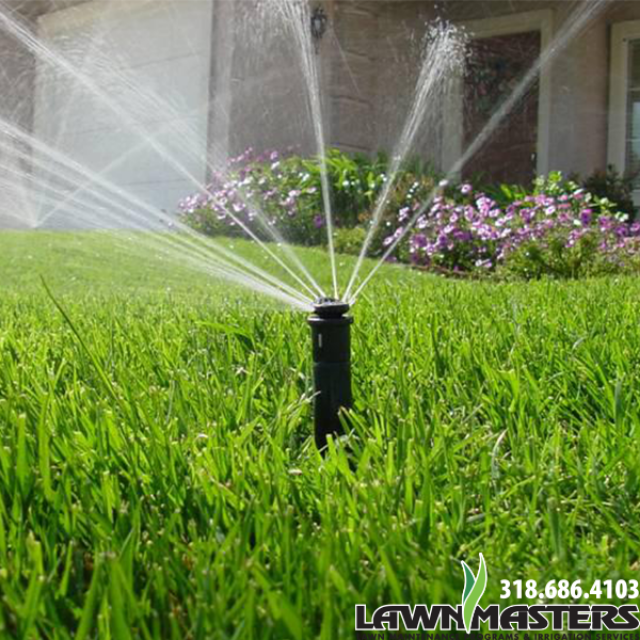 Sprinkler System Repair, Installation, and Smart Irrigation Technology
Taking care to install an irrigation and sprinkler system optimizes your use of resources. This is an often overlooked, but important action to take as a property owner. Smart irrigation can transform arid ground into a gorgeously grown lawn, all while responsibly using water. If done properly, you need not worry about over or under watering your lawn ever again—the automated system will take care of everything for you.
---
Contact Lawnmasters to share the details of your specific plans with a Shreveport landscaping and
sprinkler system professional. Call (318) 686-4103 today.
---
How Can Irrigation Help Me?
Nearly everyone can profit from choosing to get a sprinkler and irrigation system set up on their property. Today's sprinkler and irrigation systems have evolved to the point where you can precisely control the duration and amount of water used, and a new irrigation system can easily reduce your water waste by 18% to 35%. Combined with the proper drainage structures, this can save you the headache of constantly managing your lawns and gardens.
What benefits do our sprinkler and irrigation systems deliver?
Protect your budget – don't spend unnecessary money on overwatering.
Save time – eliminate tedious hours devoted to manually watering.
Care for the environment – be conscious and responsible about how much water you're using.
Even watering, healthy grass – growing tidy, green grass starts with precise cultivation.
Manage runoff – avoid costly and troublesome messes that arise from improper watering.
Smart technology – use the most cutting-edge tools to control your systems with smartphones.
Get important alerts – you can choose to be notified instantly in case of excess water flow.
No rain on your parade – systems automatically detect rain and make adjustments as needed.
The right equipment – sprinkler nozzles are carefully selected to distribute the perfect amount.
System audits and soil moisture readers – keep track of all the details at the touch of a button.
How Often Should Lawn Sprinkler Heads be Replaced
Well maintained sprinkler heads will need a replacement no later than 15 years. This will ensure you have quality sprinkler system. If you are unsure of how old your sprinkler heads are or their current condition, be sure to check in with a local sprinkler system repair company.
Get the Facts
If you decide to trust your project with our Shreveport irrigation specialists at Lawnmasters, we can go over all the details of the installation and operation process. We would be happy to answer all of your questions and provide a customized plan to fit your specific needs.
We can also explain just how much time and money you'll be able to save with a new irrigation system. With over 30 years of experience improving both residential and commercial properties in Louisiana, we can finish the job to fit your schedule.
---
To speak with a Shreveport irrigation professional about the benefits of irrigation,
call us at (318) 686-4103 or contact online today.
---